McAllen ISD Police Department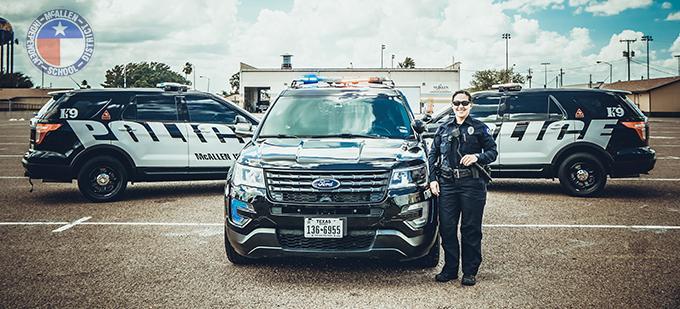 It is the mission of the McAllen ISD Police Department to commit to providing a safe environment for students, staff, and all visitors, and minimize any interruption to the educational process. Establish prevention measures and training in order to safeguard life and property and reduce crime. Commitment to the highest level of professionalism, integrity, and improve the quality of work by providing employees with effective leadership, supervision, and training.
The McAllen ISD Police Department was established in 1996. It provides law enforcement services to all MISD property owned and leased. The school district is located in a 34 square mile radius.
The McAllen ISD Police Department employs 38 Police Officers and 19 civilian employees. Officers are assigned to several divisions throughout the Department.
Campus Division

Patrol Division

Criminal Investigations Division

K-9 Patrol

Traffic Enforcement

Drone Team
For additional information, call (956) 928-8990 or 24-hour Dispatch (956) 632-8768
Emergencies/Dispatch (956) 632-8768
Guides in all decisions and actions made by our department's employees.
Strive to learn and grow

Be honest, ethical and professional

Strive for excellence

Lead by example

Treat all individuals with respect and compassion

Do the right thing
MISD Police Department Information
MISD Police Department Making Schools Safer
School Safety Center

(ERIP) Emergency Response Information Portal
Videos
Safety Tips
Newsletter
Anonymous Reporting
Staff