Demonstrating an outstanding collaboration of community and student leadership, students at McAllen ISD's Lamar Academy will provide a place for members of the community to gather and learn about mental illness and resources available to citizens.

This free event will be on Saturday, May 8, at DQ Fan Field at McAllen Veterans Memorial Stadium (2001 N. Bicentennial Blvd. in McAllen). The activities will begin at 6:30 p.m.

Mental Health Day event speakers include Hidalgo County Judge Richard Cortez, District Attorney Ricardo Rodriguez and McAllen ISD Superintendent Dr. J.A. Gonzalez. In addition, four courageous youths will share their stories. They are Anna Heikes, Alejandra Tamez, Coy Martin and Bronwyn Sadlier. Former James "Nikki" Rowe High student, Brianna Amaya, will sing an original song plus a mother and daughter duo (Maria Luisa Salciness and Maelia Salciness) will read their book You Can Do It, Chickadee!
Isabella Landeros, a student in the International Baccalaureate Programme based at Lamar Academy, says that Mental Health Day is important for many reasons.
"As an IB student, classmates and I often feel stressed about our workload," she said. "You never know what people are going through inside their heads, which is why we need more events like this where it is encouraged we all open up about our struggles. Also, it is something our community needs to recognize and learn more about, especially now. Mental health disorders are on the rise due to the stress caused by the pandemic. I hope people are able to come to our event and learn."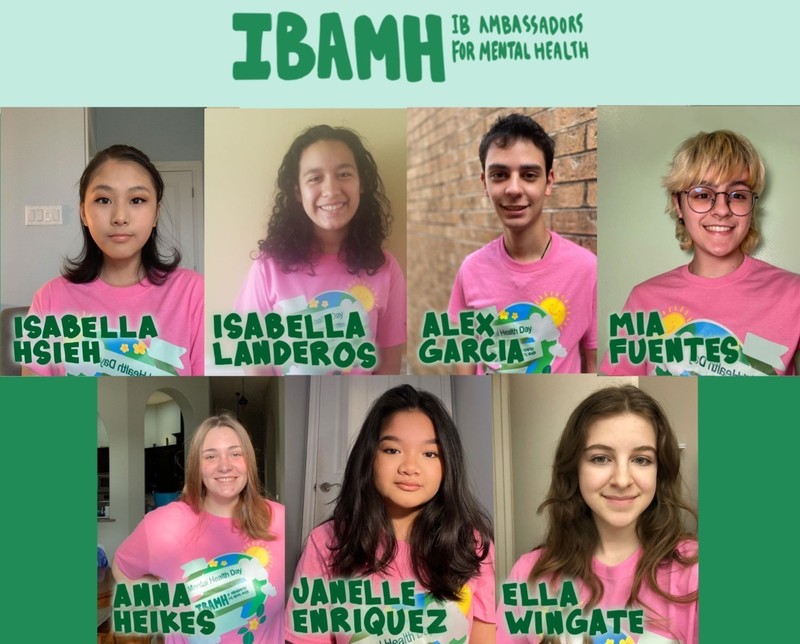 The organizing students call themselves IB Ambassadors for Mental Health.
"It is extremely important to bring awareness to something that affects so many people here in McAllen and across the world," IB student Mia Fuentes said. "It is stigmatized in a lot of places and talking about it is taking one step further to normalize mental illness and the importance of good mental health. Mental Health Day truly means so much to me. As someone who both struggles with mental health issues and knows others who do, it is incredibly important to me that mental illness is discussed on such a large scale. Bringing awareness to mental health and educating people on it will make is so much easier for future generations to have discussions about their mental health with not only their peers but also older people who may not have been taught about it. It also may help with diagnosing mental illness and the burden one often carries after being diagnosed as well as the treating of it."
Various organizations will share contact information and resources available for those who struggle. Some of these include UTRGV School of Medicine's Texas Child Mental Health Care Consortium, Boys and Girls Club San Juan-Weslaco, RGV Moms Demand Action, BCFS Health and Human Services, Palmer Drug Abuse Program, Consulado de Mexico en McAllen, City of Pharr Police Department, Children's Advocacy Center, NAMI-RGV and the American Foundation for Suicide Prevention.
Interested in having a booth? Contact Ms. Vivian Tamez.
Vivian Tamez
956-632-3222 vivian.tamez@mcallenisd.net