As a student, Jennifer Han discovered her calling thanks to inspiration from her teachers in McAllen ISD. She wanted to make a difference. She wanted to teach.
On Friday, Oct. 22, the fourth-grade teacher from McAllen ISD's Seguin Elementary reached the apex of her profession.
"I'm here to announce that Juan Seguin Elementary School is the home to the 2022 Texas Elementary Teacher of the Year," Doug Williams, President of the Texas Association of School Administrators, announced to a group of teachers and guests in the school gym.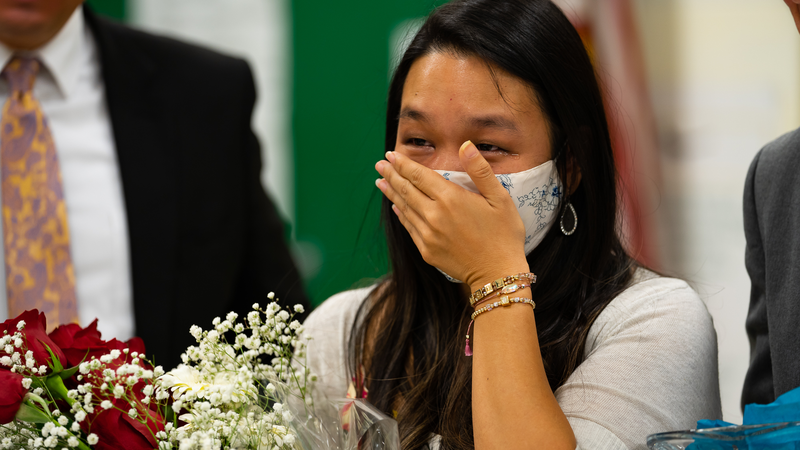 She becomes the third teacher in McAllen ISD history to win this prestigious award – the most in the Rio Grande Valley.
"It is a huge blessing," Han said. "You're representing a whole group of amazing educators (in the state). I could not be more honored."

Check out this video:

Many of her fellow teachers plus officials representing the City, County and State gave her a standing ovation. Students from the James "Nikki" Rowe High School drum line and cheerleaders added pomp to the occasion.
"The great state of Texas is a powerhouse when it comes to education," McAllen ISD Superintendent Dr. J.A. Gonzalez, said. "There are more than 3,000 elementary (schools) across the state. It says a lot about her determination (and) her ability to teach children. She brings a lot of passion and a lot of love to the table and that's the reason why she's the Texas Elementary Teacher of the Year."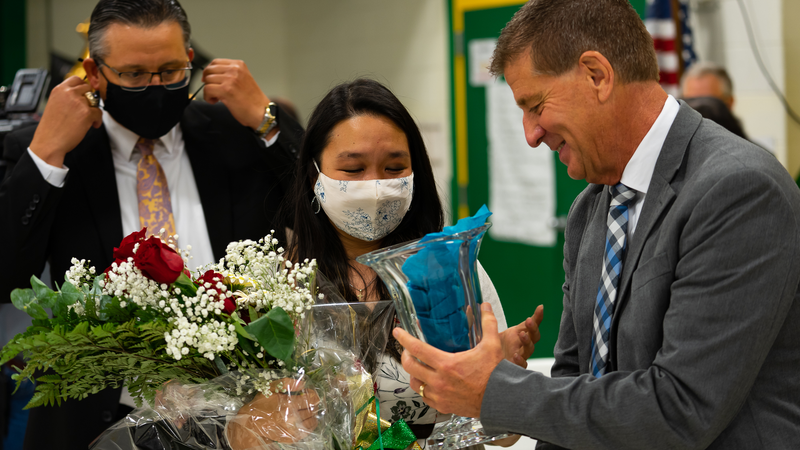 Han is now in her 14th year of teaching and is also a robotics team coach. She shared some words for her fellow educators.
"You are real-life heroes," she said. "Truly and honestly, it is a calling. It is a job that requires super-human strength, patience and love and without God in the midst of that, it's an impossible task to do. So, that's why we wake up every single day and we come into the classroom because we know we were called to do this. I'm very thankful to be able to work along your side. It's my honor really."
Her Principal, Mr. Juan Nevarez, described her strong points.
"Her strengths are her passion for her kids and her school," he said. "She gives everything from her heart. When she works with the kids and works with the staff, you can tell it's coming from deep inside her. It's life changing. Her job is changing lives."
Han is a product of McAllen ISD, having graduated from McAllen Memorial High in 2003. She expressed her appreciation for those who nurtured and guided her.
"I just want to say a huge 'thank you' to my teachers," she began. "I'm just so blessed that somebody was there to notice me, to believe in me, to push me. That's part of who I am today. That's what inspiring teachers do. I'm very, very grateful to be a part of McAllen ISD. As a product of McAllen ISD, I can tell you with 100 percent certainty that there are great educators in this district. The secret to McAllen ISD's success is our unity. We work together."
Han became a state finalist on Aug. 20, shortly after being named Regional Elementary Teacher of the Year. She earned the McAllen ISD District Elementary Teacher of the Year award in May.
Since fall 1991, McAllen ISD teachers have earned an astounding 21 Regional or State Teacher of the Year titles – the most in the region. McAllen ISD teachers won the State award in 1993 (Secondary) and 2009 (Elementary).
In August, Han spoke to more than 100 new teachers at the McAllen ISD New Teacher Orientation. She reminded them of their tremendous power to impact students' lives.
"You can change humanity one classroom at a time," she said.
Han, who teaches bilingual and gifted/talented education, has led initiatives for community empowerment and involvement through McAllen ISD's Community Youth Development program, recognizing parents and students who have been named as outstanding parents and youth by the US Department of Family Protective Services.
"I have learned through the years of being a writing teacher that kids want to be noticed, acknowledged and liked," Han said. "They want to share and show us who they are. They love talking about their dreams, families, special talents and things that make them proud. Though not all students may have the ability to glide on paper to express themselves, in my class all students are encouraged to try their best to tell their own story."
As grade level chair of her school's Minitropolis Program, she has led in the creation of a post office, a store front, a bank and a photography shop. In this unique program that infuses business into the educational setting, students learn real life leadership, career, and finance skills.
She advocates for STEAM integration, emotional intelligence and flipped classrooms to equip students for life's rapidly changing demands.
Her robotics team integrated Science, Engineering, Math and Technology and has shown "gracious cooperation" (cooperative competition) in and outside of the playing field, earning distinctions such as "Innovative Projects" and "Most Inspiring Team" for demonstrating great sportsmanship in the regional competition of the First Lego League.
Han has been a major and consistent contributor to district curriculum writing, presenting at numerous technology-based conferences that have drawn educators from across the state.
She holds bilingual generalist and Spanish certifications and a bachelor of science in education from the University of Texas at Austin with honors, magna cum laude.
About TASA
TASA is the professional association for Texas school superintendents and other administrators. The mission of the organization, which focuses on professional learning, advocacy and member engagement, is to promote, provide and develop leaders who create and sustain student-centered schools and develop future-ready students.
Texas Teacher of the Year Program
To achieve recognition as Texas Elementary or Secondary Teacher of the Year, a teacher must first be chosen as a campus and district teacher of the year, then a regional honoree. From the group of 40 regional teachers of the year, six finalists are chosen and interviewed by an independent panel of judges composed of representatives of education associations, community and business leaders, a member of the State Board for Educator Certification, a member of the State Board of Education, and prior Texas Teachers of the Year.
The program operates with financial support and in-kind contributions from the following:
Diamond Sponsors
Edgenuity
H-E-B
Raise Your Hand Texas
TASA
Platinum Sponsors
Google for Education
Texas Association of School Boards (TASB)
Gold Sponsors
Centric Learning
Curriculum Associates
Gulf Coast Educators Federal Credit Union
Ruby K. Payne, Ph.D.
Texas School Public Relations Association (TSPRA)
Silver Sponsors
Association of Texas Professional Educators (ATPE)
Texas Association of School Business Officials (TASBO)
Texas AFT
Texas Association of School Personnel Administrators (TASPA)
Texas Association of Secondary School Principals (TASSP)
Texas Classroom Teachers Association (TCTA)
Texas Elementary Principals and Supervisors Association (TEPSA)
Texas PTA
Texas State Teachers Association (TSTA)
TASA is the professional association for Texas school superintendents and other administrators. The mission of the organization, which focuses on professional learning, advocacy and member engagement, is to promote, provide and develop leaders who create and sustain student-centered schools and develop future-ready students.