With balloons and cookies in hand, officials from H-E-B's Excellence in Education awards surprised a McAllen ISD teacher in her classroom with fantastic news on Wednesday, March 23.
Mayela Canales, a fourth-grade teacher at McAuliffe Elementary, learned she is now one of just five finalists in Texas for the Rising Star-Elementary award.
"I'm very excited for Mrs. Canales and McAuliffe," McAllen ISD Superintendent Dr. J.A. Gonzalez said. "I want to thank H-E-B for going the extra mile for educators and I want to congratulate Mrs. Canales for being selected as a finalist."
The Rising Star Award honors exceptionally promising teachers with less than 10 years of experience. H-E-B awarded $1,000 to her and $1,000 to the campus. The state winner will be announced at a banquet April 30 in Austin.
"It's very exciting," Canales said. "I buy a lot of resources for my kiddos so that money is going to go right back into the classroom. I want to be the teacher that I want my daughter to have in the classroom. So I teach those kids as if they were my own."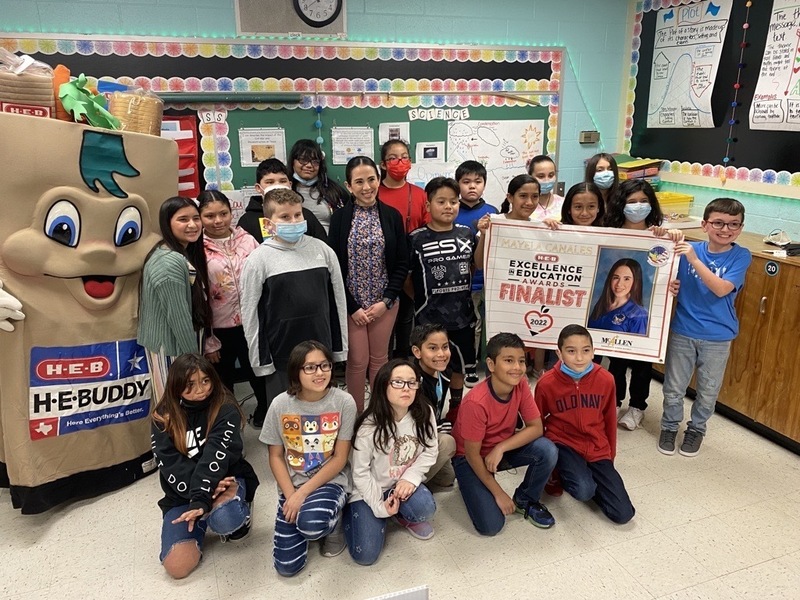 The campus celebrated the announcement with James "Nikki" Rowe High's cheerleaders and drum line who led a "Spirit Walk" procession with Ms. Canales and her students. They walked parade-style through McAuliffe's corridors as the entire student body looked on.
In January, McAllen ISD learned it was a state finalist in two other awards in the H-E-B Excellence in Education awards. McAllen ISD is a finalist in the categories of School Board Leadership and Best Large District.
It is the only school district in the Rio Grande Valley to be named a finalist in either category.
Since the program's inception, H-E-B has awarded more than $12 million in funding to benefit outstanding Texas public schools.
About the H-E-B Excellence in Education Awards
H-E-B launched the Excellence in Education Awards program in cooperation with the Texas Association of School Administrators in 2002 as a positive way to support public education in Texas. It has become the largest monetary program for educators in the state, spotlighting best practices and celebrating the passion and creativity of Texas educators.
H-E-B asks customers, Partners (employees) and community members to nominate teachers, principals, districts, early childhood facilities and school boards in Texas. Each nominee is sent an invitation to complete an application online and is asked about their professional experiences, educational philosophies, and achievements both in and out of the classroom.

About H-E-B
H-E-B, with sales of $32 billion, operates more than 420 stores in Texas and Mexico. Known for its innovation and community service, H-E-B celebrates its 116th anniversary this year. Recognized for its fresh food, quality products, convenient services, and a commitment to environmental responsibility and sustainability, H-E-B strives to provide the best customer experience and lowest prices. Based in San Antonio, H-E-B employs more than 137,000 Partners in Texas and Mexico and serves millions of customers in more than 300 communities. For more information, visit HEB.com and the H-E-B Newsroom.

See video here: