It's official. McAllen ISD has earned an "A" from the state of Texas!
This is the third time the state has issued ratings that McAllen ISD earned the "A" rating. The district also earned an "A" in 2018 and 2019. The Texas Education Agency did not issue ratings in 2020 or 2021 due to the COVID-19 pandemic.
"To come off two years of dealing with a world pandemic and still earn an 'A' for our district is truly amazing," Superintendent J.A. Gonzalez, Ed.D., said. "This shows the resilience, dedication and perseverance of all our teachers, students, staff, administrators and parents. We also appreciate the leadership of our Board of Trustees. It was a true team effort."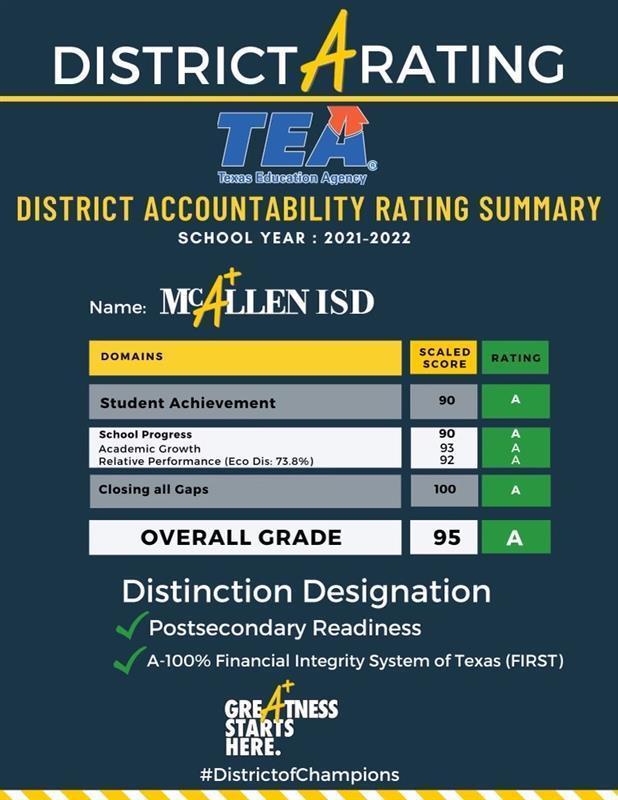 During the pandemic, students learned virtually from home for months at a time, and many did not return to a classroom until fall 2021. Despite this challenge, McAllen ISD actually increased its overall scaled score, going from 93 in 2019 to 95 this year. Fewer than nine percent of public school districts and charters (106 of 1,207) in Texas scored at least a 95.
A score of 90-100 is considered an "A." Across the state, fewer than one third of public school districts and charters (396 of 1,207) earned the "A" this year.
The 85th Texas Legislature passed House Bill (HB) 22, establishing three domains for measuring the academic performance of districts and campuses. These are:
Student Achievement
School Progress (broken down into Academic Growth and Relative Performance)
Closing the Gaps
Districts receive a rating of A, B, C, D, or F for overall performance, as well as for performance in each domain.
Based on performance in 2021-22, McAllen ISD's grades in the domains were as follows:
Student Achievement A (scaled score 90)
School Progress
Closing the Gaps A (100)
- Academic Growth A (93)
- Relative Performance A (92)
McAllen ISD prides itself on being a district of choice for children in elementary, middle and high school. That includes:
McAllen ISD offers STEAM (Science, Technology, Engineering, Arts & Math) in Pre-K-12, International Baccalaureate in grades 1-12, Advanced Placement courses, Career Technical Education in 13 career clusters where students earn professional licenses or certifications, four dual enrollment academies and an Early College High School where students can earn an Associate's Degree before they graduate high school
Offering International Baccalaureate Teaching and Learning Framework - elementary through high school
Offering full day Pre-Kindergarten for qualifying families and by tuition for all families
Offering a Dual Language program in elementary and middle school
High schools geared with the capacity for students to graduate with up to any or all of the five endorsements offered in Texas (Business & Industry, STEM, Public Services, Arts & Humanities or Multi-Disciplinary)
Offering academic UIL competition – elementary through high school
Offering chess in elementary through high school.
Offering robotics – elementary through high school
Offering coding – elementary through high school
Elementary music classes taught by teachers degreed in music
McAllen ISD's Career Technical Education Program offers four college certification opportunities through dual enrollment credit, 40 professional licenses and certification opportunities and 23 programs of study, all aligned to 13 Career Clusters.
McAllen ISD also places strong emphasis on teacher training and development providing the support they need to ensure student learning. As the district continues to promote lifelong learning in students, it continues developing the skill sets and emotional intelligence of its educators. This builds a strong instructional core and sense of belonging since the development of high-quality educators is key to successful student achievement.
Student Achievement evaluates performance across all subjects for all students, on both general and alternate assessments, College, Career, and Military Readiness (CCMR) indicators, and graduation rates.
School Progress measures district and campus outcomes in two areas: the number of students that grew at least one year academically (or are on track) as measured by STAAR results and the achievement of all students relative to districts or campuses with similar economically disadvantaged percentages.
Closing the Gaps uses disaggregated data to demonstrate differentials among racial/ethnic groups, socioeconomic backgrounds and other factors. The indicators included in this domain, as well as the domain's construction, align the state accountability system with the federal Every Student Succeeds Act (ESSA).
The state legislature approved the new A-F rating system in 2015.
PHOTO: Two McAllen ISD students listen during a discussion in October, 2021.